?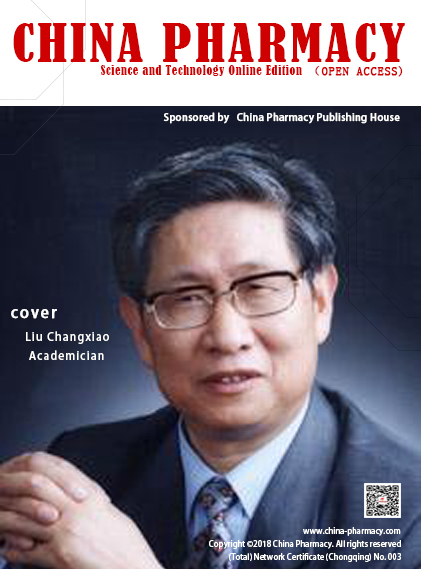 China Pharmacy (online edition) adhered to the aim of "Create a brand-name journal for medical and health navigation in China". It presents in the form of popular science edition and science and technology edition. The 2 editions will show featured columns about Humanities pharmacy, Pharmacists talking about medicine and Postmarketing re-evaluation, Pharmacoeconomics, etc., focusing on all levels of personnel working in hospital pharmacy and social pharmacy, and regularly publishing in China pharmacy network, China pharmacy mobile network, WeChat platform, Weibo, APP and other new media platforms.
Popular science edition
Featured columns include Cutting-edge medicine, Humanity pharmacy, Pharmacists talking about medicine, Licensed Pharmacist, Pharmacy horizon, Family medicine box and Fun in pharmacy, etc. The above-mentioned columns will temporarily publish in both quarterly news and new media three-dimensional network (official website, two micro-ends). It aims to propaganda, teach and popularize the knowledge of popular science medicine.
Science and technology edition
Featured columns include Consistency evaluation, Postmarketing re-evaluation, Pharmacoeconomics, Typical cases, Interpretation guidelines and Review, etc. The above-mentioned columns are thought to adopt Open Access (OA) publishing, interpreting the latest drug policy, spreading the most cutting-edge pharmaceutical information and collecting rare cases of adverse drug reactions. It aims to make pharmacy professionals have access to sharing, and make an easy way for pharmacy institutions for information querying and collecting.
Copyright © the authors All rights reserved.This is an open-access article distrubuted under the terms of the Creative Commons Attribution License,whih permits unre stricted use,distribution,and reproducion in any medium,provied the original author an d source are credited.
---
Latest Ariticles
---
ABOUT US
Editor-in-Chief:
MA Jin
Ehief Editor:
LIN Nengming
Vice Chief Editors:
CHEN Wansheng LI Xiaobing ZHANG Lingli ZHOU Hong MENG Desheng XIA Lunzhu MEI Quanxi ZHAI Suodi
Chief Planner:
SUN Anlong
Edited & Published by:
New Media Departmetn,China Pharmacy Editorial and Publishing Center
Postal Address:
8/F 129 Daping Main Street, Yuzhong District, Chongqing 400042,P.R.China
Phone:
0086 23 68586827
E-mail:
newmedia@china-pharmacy.com
Website:
www.zjguahao.com
Internet Publishing:
Service License(Total)Nerwork Certificate(Chongqing)No.003


Copyright ?2019 Chongqing Cancer Institute All Rights Reserved
?